2019 ARRIRANG FESTIVAL  
The Miryang Arirang Festival has enhanced the status of Arirang in Korea by inheriting and developing Miryang Arirang following Arirang's registration as a UNESCO intangible cultural heritage in 2012. It is also a representative cultural event of the Gyeongsangnam-do Festival, starting in 1957 to foster progress, motivate economic growth, and celebrate the Miryang Cultural Festival, raising the ethos of rural area from the spirit of Samyeong Daesa who got over the national hardship by raising the warrior monks as a Buddhist monk during the Japanese Invasion of Korea, Kim Jong-jik who overcame the national crisis from the early Joseon Dynasty to the middle of a period and the spirit of Arang Nangja who represent a symbol of Korean women's constancy and chastity.
The Milyang Arirang Festival was selected as a promising festival from the Culture and Tourism Festival selected by the Ministry of Culture, Sports and Tourism, and developed into an original and distinctive festival by Landmarking Yeongnam-ro and Miryang River areas through unique and differentiated space directions, rather than organizing simple viewing events.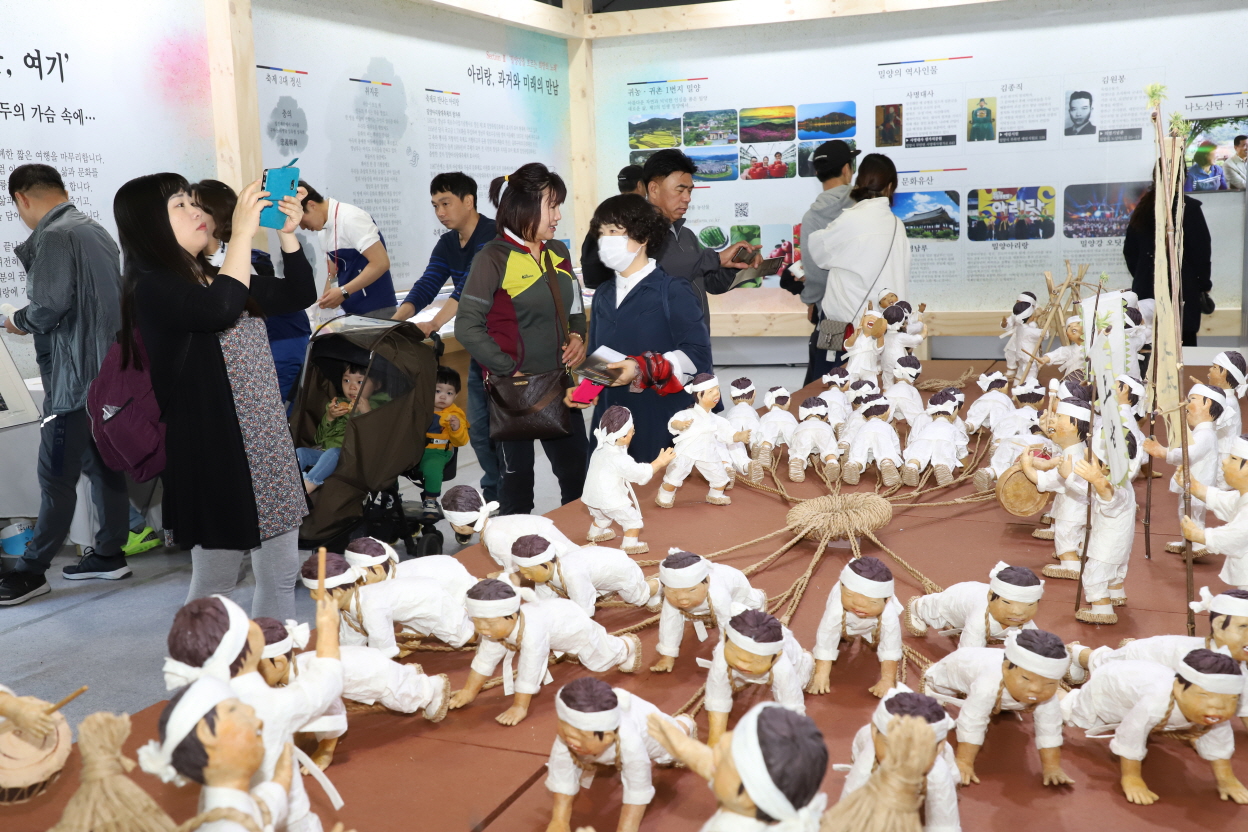 PROGRAM   
ARRIRANG EXPERIENCE ZONE
ARRIRANG CALLIGRAPHY
EXPERIENCE ABOVE THE WATER ZONE
ARRIRANG TOPIC HALL
MILYANG INTERNATIONAL SIBILING CITY PHOTO GALLERY
MILYANG AGRICULTURE & FOOD IMAGINATION HALL
"MILYANGCHOWOO" BRAND ADVERTISING HALL
TRADITIONAL ANCESTRAL RITUAL FORMALITIES RITES
ARRIRANG MAKING PEOPLE  INTEGRATION
ARRIRANG NIGHT LIGHT ZONE
STAMP TOUR
MILYANG RIVER ODYSSEY
RESPOND 1919
VISITING MATHEMATICS EXPERIENCE CENTER
VARIOUS JUNIOR EXPERIENCE BOOTH
MILYANG FISHING SWEET FISH EXPERIENCE
RIVER MARKET
STREET ART PERFORMANCE
INTANGIBLE CULTURAL HERITAGE PERFORMANCE
MILYANG FINDING FORTUNE
OPENING ACT
A HISTORIC OCCASION STREET PARADE
MILYANG ARRIRANG CONTEST (CREATIVE DEPARTMENT)
VISITING HISTORY IN MILYANG
MILYANG ARRIRANG TALK CONCERT
TRADITIONAL KOREAN MUSIC PERFORMED BY FARMERS COMPETITION
HAECHEON MUSIC FESTIVAL
CLOSING CEREMONY 
 INFORMATION 
START DATE  2019.05.16
END DATE  2019.05.19
TELEPHONE  055-359-4522,4525
WEBSITE  http://arrirang.or.kr
ADDRESS  Junganglo 324, Milyang-si, Gyeongsangnamdo
HOST  Milyang
SUPERVISION  Milyang Culture Foundation
 SNS   
FACEBOOK @miryangsi
INSTAGRAM @miryangsi